Serving One Another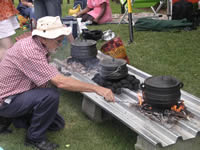 A "church" is a group of believers committed to the Lord and each other. It is not the corporation, the "ministry professionals," or the Sunday morning event. We want our primary ministry to be person-to-person throughout the week, not just people anonymously attending weekend events.
Prayer Ministry
MountainView believes in prayer, and we therefore include it as a significant element of every Sunday meeting and during our midweek studies. Our men also get together for focused prayer times.
Worship Team
Speaking to each other in psalms, hymns, and spiritual songs is pleasing to the Lord, as is worshipping Him from the heart, not just the lips. We have a number of young adults and teens who are continually improving their misical skills as unto the Lord and for His people.
Ladies' Studies
We have periodic studies for ladies, for moms, and for families with children with disabilities. Please contact the church for more details about upcoming activities for the ladies.
Children's Church
A number of teachers provide songs, activities and crafts, and teach God's Word to primary-age children during the morning message.
Creche
A caring and knowledgable staff provide care and activities for little tots during the duration of our Sunday meetings.
Compassion Ministry
We provide meals for those who have been sick, in hospital, had a baby, moved residences, or otherwise could use the help of the church in providing meals. This is done primarily for the church body, but as the documented need arises, also for people in the community.
Several of our families are also involved with care for orphans in the current AIDS crisis in South Africa.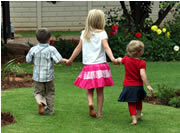 Primary Youth - Fridays
Every Friday evening at 7 PM at the church property, kids (ages 4-11) have games, contests, a snack, and a good time learning God's Word!
Young Adults - Fridays
The teens meet Friday evening at 7 PM for fellowship, games, activities, and a Bible study.
Special Events
We have special fun days together as a church, and sometimes we join other churches for a volleyball tournament or a potjieskos competition.