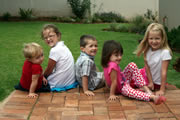 A Growing Church-Plant
Our heartbeat is to help people begin a relationship with Jesus Christ, to develop a deeper walk of faith, and to lovingly serve God and other people.
God has called our church family together from many vocational backgrounds. Though our services are in English, we are a multi-ethnic congregation made up of men, women, and children who are bound by a common thread: the person of Jesus Christ. Most of us have been walking with God for less than 10 years.
MountainView Bible Church is a church planting project of Biblical Ministries Worldwide, which has started several churches in the greater Johannesburg area. MountainView began in a home in October of 2004, and from 2005-2010 met at the Sha-Mani Conference Centre in Alberton.
We bought and renovated a house in Glenanda in 2010, which now serves as our church home. Our target area of ministry is in the suburbs south of Johannesburg between Mondeor (west) and Alberton (east).
As God grows and supplies, we hope to call our own pastor in the next few years.